A protein-rich paste made from fermented soybeans, miso is a staple in Japanese cuisine. Rich in minerals and various B-vitamins, miso is also a good source of vitamin E, vitamin K, and folic acid.
As a fermented food, miso provides the gut with beneficial bacteria. And, as we have learnt [Note to webmaster: Link to the post about gut health], good gut health is known to have a positive effect on our overall mental and physical wellbeing.
The 2 recipes here use white miso, which is light in colour and has a lower salt content.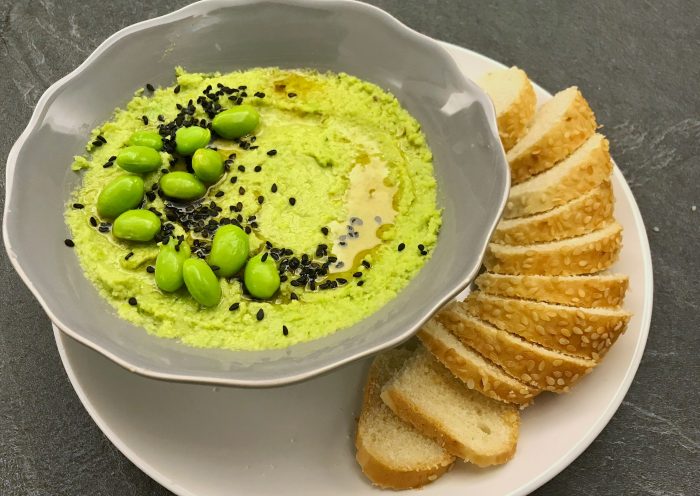 Edamame Miso Hummus
Ingredients
1 1/2 cups
thawed frozen edamame
2 tablespoons
fresh lemon juice
1 tablespoon
extra virgin olive oil
Garnish
2 teaspoons
black sesame seeds, lightly toasted
1
Place the 1 1/2 cups of thawed frozen edamame in a small saucepan. Cover the beans with water. Bring to boil and cook the beans for 4 minutes. Drain.
2
In a food processor, combine edamame, miso, lemon juice, olive oil, sea salt, water, and garlic clove. Process the ingredients until smooth.
3
Transfer hummus into a bowl and garnish with sesame oil, edamame and sesame seeds. Enjoy with toasted bagel chips or crackers.
Spiced Miso Caramel Popcorn Clusters
Ingredients
1 tablespoon
cold-pressed coconut oil
1/2 cup
roasted almonds, chopped
1 tablespoon
white miso paste
A pinch of
Chinese five-spice powder
1
Heat the coconut oil in a large saucepan over high heat. Add the kernels and cover the saucepan, shaking the pan occasionally. After 3 minutes or so, the kernels should be fully popped.
2
Remove the pan from heat and add the almonds and sunflower seeds. Mix it all up. Set aside with cover off.
3
In a small saucepan, cook the honey and miso paste until thickened. Then remove from heat and add the baking soda and five-spice powder. Stir to mix.
4
In tray, lay out the popcorn mix and pour the syrup over. Using a spatula, mix the popcorn and syrup to make sure everything is evenly covered. Spread the mix and set aside to cool and until syrup has set.
Easy 3-Minute Miso Soup
Ingredients
1/2 cube of
low-sodium chicken stock (you may substitute this with ikan bilis stock cube)
1
tofu puff (tau pok), cut into small cubes
1 tablespoon
white miso paste
2 pieces of
unsalted roasted seaweed
1
Bring the water to a gentle boil and add the stock cube. Reduce the heat and stir until the stock cube dissolves.
2
Add the tofu puffs and bring the water back to a boil. Then turn off the heat.
3
Stir in the white miso paste. Remember to never cook the miso paste in boiling soup as this will destroy the taste of the miso.
4
Divide the soup into 2 bowls and garnish each with a piece of roasted seaweed.
5
Enjoy the soup on its own or as part of a meal.